In 2011, the University of Massachusetts Amherst Dining Services successfully created the World's Largest Stir-Fry (4,010lbs) during first week festivities. Last year, UMass Dining created the World's Largest New England Seafood Stew, weighing in at over 6,656 pounds.
On the heels of these past accomplishments UMass Dining has decided to make an even bigger splash this year. On Labor Day, September 2rd, 2013, UMass Dining will attempt to create the World's Largest Fresh Fruit Salad at 15,000 pounds and set the new record as recognized by Guinness World Records.
In honor of the 150th Anniversary of UMass Amherst this year, we will use 150 varieties of fruit (many being locally sourced) and get help from 150 volunteers to achieve our 15,000lb goal. Special thanks goes to the UMass Cold Spring orchard, who contributed over 150 bushels of a variety of apples as well as 25 boxes of peaches and seedless grapes. We are proud of their quality product and ability to deliver a diverse variety of peaches, apples and grapes.
Our goals for attempting this Guinness World Record are to support the resiliency of the New England food system by using as much locally sourced fruit as possible, promote sustainability and healthy eating, showcase regional cuisine and build community within UMass campus community. We plan to use fruits from our student-run farm, the four permaculture gardens on campus, and from many local farmers.
And this event will be centered around our 'Welcome to UMass Amherst' Green Barbecue, where UMass will be welcoming back 28,000 students back to campus for the fall semester. Once UMass successfully breaks the new world record, the Fresh Fruit Salad will be offered to all in attendance. The event will be led by Oliver de Volpi of McGill University, current Largest Fresh Fruit Salad World Record holder at 11,197lbs, Jet Tila of the Food Network, and UMass Executive Chef Willie Sng, aided by hundreds of volunteers to make it possible.
Join UMass Dining and the entire UMass Amherst community on September 2nd as we work together to break yet another Guinness World Record!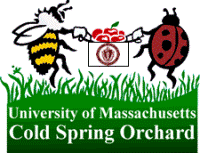 How will we use 15,000 lb of fruit? Become a Volunteer