UMass World Record History Timeline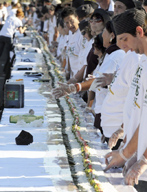 On September 6, 2010 UMass Dining broke the record for World's Longest California Roll. Together, we created a 422-foot long California Roll and eclipsed the former record of 340 feet, set in November of 2009 at the University of California, Berkeley.
On Labor Day, September 5th, 2011, at approximately 5:15 pm, the University of Massachusetts Amherst Dining Services along with hundreds of volunteers successfully created the World's Largest Stir-Fry weighing in at 4,010 pounds.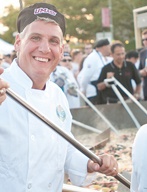 On September 3rd, 2012, UMass Dining created the World's Largest New England Seafood Stew, weighing in at over 6,656 pounds, using vegetables from the student-run permaculture garden on campus as well as from local farmers. It was a great way to start off the new school year!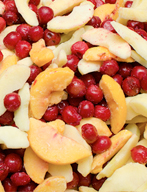 On the heels of our three previous world record-breaking events, UMass Dining has decided to make an even bigger splash in 2013! On Labor Day, September 2rd, UMass Dining will attempt to create the World's Largest Fresh Fruit Salad at 15,000 pounds and set the new record as recognized by Guinness World Records. In honor of the 150th Anniversary of UMass Amherst this year, we will use 150 varieties of fruit (many being locally sourced) and get help from 150 volunteers to achieve our 15,000lb goal. Our goals for attempting this Guinness World Record are to support the resiliency of the New England food system by using as much locally sourced fruit as possible, promote sustainability and healthy eating, showcase regional cuisine and build community within UMass campus community.